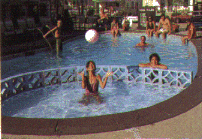 Suitcase Motel is a family place offering clean, all smoke free modern accomodations at reasonable rates. Relax by our beautiful pool or nearby on one of the best beaches in New Jersey.
We're within walking distance of the famous boardwalk, beach and area restaurants. We offer a free continental breakfast to our guests as well as lounge area and picnic area with BBQ grills.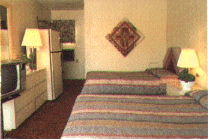 Each of our rooms includes the following: cable TV, heat/air conditioning, microwave, refrigerator, iron and board, air purifier and courtesy coffee set. Our Courtesy Room has fresh-brewed coffee and tea, a microwave and toaster for the use of our guests. Parking for one car per room is also provided.
Our courteous staff will do everything to make your holiday an enjoyable one. So "Pack up your troubles and stay at the Suitcase Motel!"


Suitcase Motel & Travel
1500 New Jersey Ave.
N. Wildwood, NJ 08260
&nbsp

609-522-7208
609-522-7262 (fax)
www.suitcasemotelandtravel.com
E-mail: [email protected]



Send us an email




© Majura Management, Inc.
Last Updated: February 9, 2008